At Ken's Foods, we know it takes a lot more than quality ingredients to guarantee a great tasting product. Which is why approximately 10% of our work force is actively involved in two of our most important departments: Research and Development and Quality Assurance.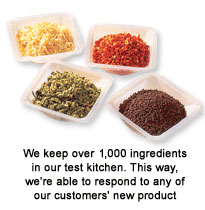 Our current Research & Development department team has over 100 years of experience in the category. They are just a few of an entire staff that prides itself on getting creative ideas translated into successful products. Extensive communication with our vendors and keeping abreast of industry trends allows us to address the dynamics of an ever-changing food industry.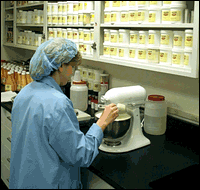 In our early days when we perfected Italian dressing, taste was all that mattered. Today, in addition to counting on delicious flavors, consumers are concerned with the nutritional aspects of the dressing or sauce. The product development path encompasses a blend of food science and culinary technology. By maintaining close customer contact we can formulate products that meet anticipated analytical measurements and deliver accurate flavor profiles. To develop a new dressing or sauce we maintain an inventory of over 1,000 ingredients in the R&D test kitchen. Organization of ingredient information and product standards allows R&D Information Systems to coordinate nutrition facts and develop complete product information specifications. Our pilot plant is capable of producing samples which range from 16 ounces to 20 gallons.

The market changes quickly in this business. That's why we're so quick to respond to product trends, consumer preferences and customer needs. At the same time, we keep a watchful eye on the competition to make sure our quality standards are higher, our packaging is better and our product line more diverse and extensive.


The Ken's Culinary Center showcases the commitment we are making to our customers by providing menu ideas and alternate use suggestions. This ongoing program has resulted in a portfolio of contemporary recipes and ideas for use in menu ideation programs. See recipes for more information.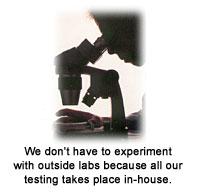 Our goal is to make consistent quality products that exceed our customer's expectation. Our Quality Assurance programs insure we meet these expectations. The Quality Assurance programs begin with Vendor Certification, which includes vendor approval and material testing for conformance to our specification. Next is our Quality Testing Program, which involves extensive testing of our in-process batches of salad dressing and finished product by our highly trained staff. Testing includes acid, salt, viscosity, color, fat, moisture, flavor and more. Many tests are conducted using state of the art scientific equipment.

Our Microbiology program contributes to the safe packaging of our quality products. Our in-house Microbiology department tests out ingredients, processing equipment and finished product for conformance to our specification. Trained microbiologists who follow approved testing procedures conduct this testing. Additionally, this department conducts challenge testing on product using known organisms that can cause spoilage to salad dressing products.

All three of our manufacturing facilities are rated Superior by A.I.B. Our successful Quality Assurance Programs have contributed to this accomplishment. These programs range from HACCP to HEPA filters, which are normally used in microchip manufacturing facilities.